Pandemic Pivot has been a boon for some small businesses
The pandemic has been tough on small businesses. Nearly two of every three have yet to surpass sales levels reached prior to the COVID-19 breakout, a recent survey showed.
Others, however, absorbed the initial jolt, adapted to market needs and found new growth.
Business owner Hermes Ortiz, who specializes in signs and banners, embroidery and engraving, pivoted to customized face masks and bilingual signs for his Hispanic customers, including restaurants and transport companies.
"You're looking for what the community needs in this moment,'' says Ortiz of his Brooklyn business. "In the pandemic, the community needed facemasks and signs in two languages, Spanish and English, so that's what I do."
The headwinds that soon followed the start of the pandemic in 2020 – temporary shutdowns, pandemic protocols, balky supply chains, inflation, and a labor crunch – have roiled small businesses in the three years since, said Michael Goldberg, an associate professor in the Weatherhead School of Management, Case Western Reserve University.
"The abruptness of the pandemic caused all sorts of challenges for small business owners and entrepreneurs,'' Goldberg said. "The normal way of doing business went away."
Billions of dollars distributed by the U.S. Small Business Administration's Paycheck Protection Program helped thousands of small businesses weather the pandemic. But as of January, only 36% of small businesses reported being back to or beyond pre-pandemic sales levels, according to a survey by the National Federation of Independent Business, a trade group for small businesses.
Business owners had to get creative in response to the pandemic, Goldberg said. That could mean a new product or service, or a greater and more strategic use of technology and online platforms. Every approach was different.
Cranking out masks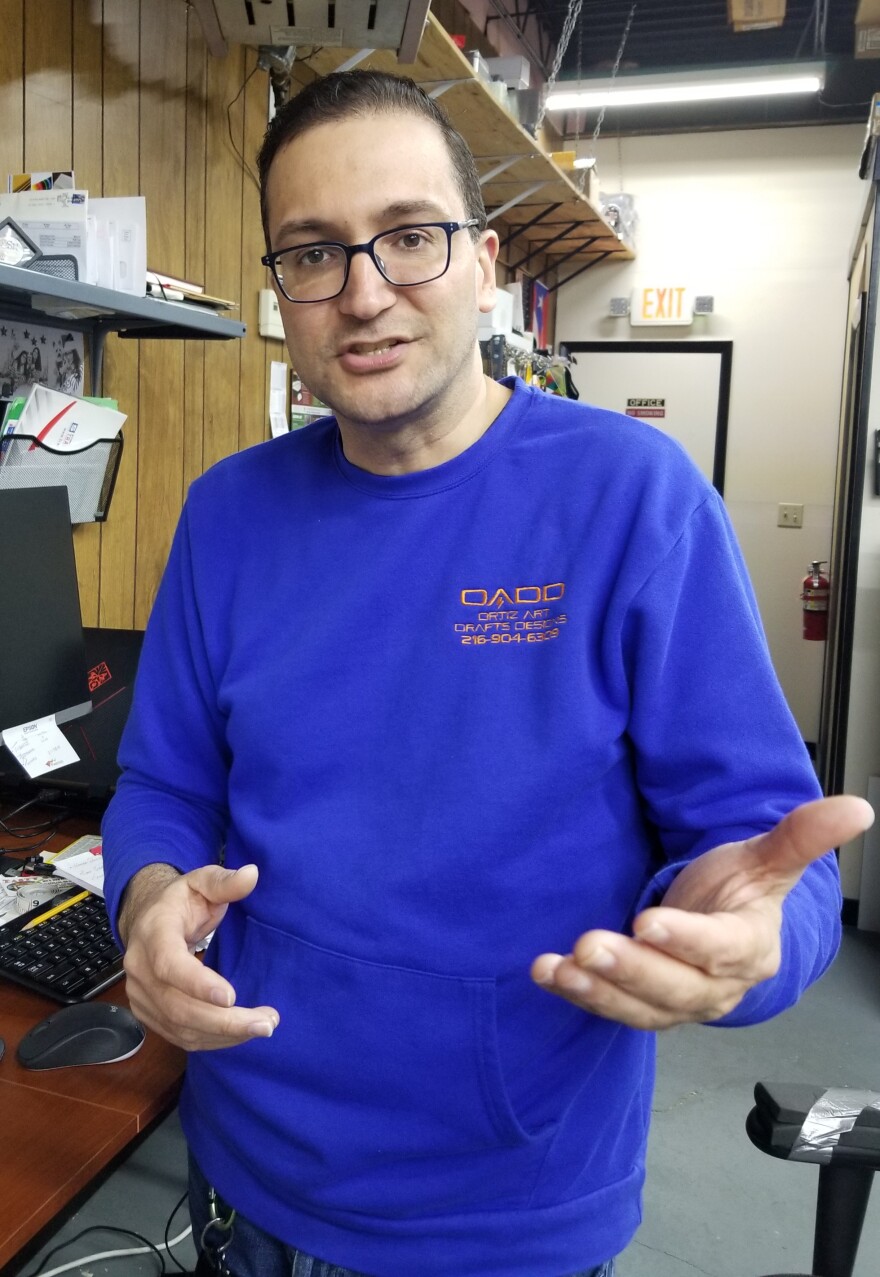 In early 2020, Ortiz and his wife Jeannette had moved their growing business, Ortiz Art Drafts Designs, from a Hispanic business incubator on Cleveland's near West Side to a suburban Brooklyn storefront.
They added an expensive laser engraver, too, expanding their ability to answer the promotional and marketing needs of Cleveland's Hispanic community. The Puerto Rican couple had started their business in 2016 with embroidery services. Sales expanded as word of their quality work spread through the Hispanic community.
When the pandemic hit in March 2020, customers hit the brakes.
"I talked to my wife and said, 'Oh my God, what's going on? What's the next step?' " Ortiz said. "She said maybe we can do face masks. And that's what we did – personalized, with the company logo or other information on the masks."
They cranked them out, peaking at several hundred per day. That generated vital revenue for nearly two years. Restaurants also began calling for window signs and floor decals, in Spanish and English, listing business hours, directions for safely picking up food orders and other pandemic-related information.
The pandemic-fueled demand for more truck deliveries had new, independent drivers requesting signage for their trucks, a niche business that surprised them. Soon, all kinds of Hispanic businesses using cars and trucks were calling Ortiz. He would design a company logo, if needed, print out the vinyl decal, and apply it to the vehicle. Ortiz, of course, could handle the companies' other promotional needs, including business cards, embroidered shirts and uniforms, digitally printed apparel and engraved mugs and plaques.
"It's organic and you're just responding to your customers' needs,'' Ortiz said.
These days, his company has three full-time employees and one part-timer. Using the drafting and design skills he learned in Puerto Rico, Ortiz is also building an architectural design business. He admits that his ambition can outstrip what's practical. He writes all of his business ideas in a journal.
"My vision is crazy," Ortiz said. "I look forward to everything. Customers come in and tell me about other guys doing something that looks like a great opportunity. And I am writing it all down in my book."
Last year, Ortiz took part in a business accelerator program run by JumpStart Inc., the Cleveland-based venture development organization. It was especially valuable for financial planning, business analysis and marketing, Ortiz said. He likes building his business knowledge and passing it along. He said more and more small business owners are calling or asking for his advice at the store.
The Ortiz company's resilience was tested recently. A drunk driver smashed through their storefront and damaged a printer and other equipment in late January. Losing the storefront has put a crimp in his business, but repairs and a grand reopening in the coming months should help it recover, Ortiz said.
Sea moss and social media
In January 2020, Mary Johnson and her healthy foods-and-wellness business, Vitiman Kandie, opened a grab-and-go shop in the GlenVillage business incubator in Cleveland's Glenville neighborhood. She already had a spot in the former Richmond Town Square mall in Richmond Heights.
Operating two cafes culminated years of immersing herself in fitness, veganism and herbs. Johnson had lost 100 pounds and had turned preparing healthy meals, juices and smoothies into a small business. Many of her products feature sea moss, which has benefits for the heart and digestion. Friends dubbed her the "The Big Boss of Sea Moss.''
When the pandemic hit in March 2020, the Richmond Mall spot – generating a majority of her income – closed and never reopened. (The troubled mall closed later in 2020.) The GlenVillage spot remained open, but, like a lot of food-service locations, got squeezed by pandemic protocols. Vitiman Kandie shrunk, from 10 employees to three.
"I had to take all of the things that I was doing and just get kind of super creative,'' Johnson said.
She expanded her product lines to include hair serums, CBD products, vegan wines (some winemaking involves animal-derived products in the process) and a special MJ (her initials) sauce. She expanded her online presence and reached out to a pandemic-wary market looking for health-and-wellness advice. Johnson would stream live to show how products were made, answer questions and announce daily specials at the GlenVillage cafe.
"I opened up on social media and let them into my world so they can actually see how I was producing things,'' Johnson said. She showed how "to take advantage of good foods that were healthier for them without sacrificing the taste."
Johnson continued to build her brand, business and entrepreneurial chops in 2021 and 2022. Grants and loans from the Small Business Administration allowed her to hire back some workers, freeing her to join a JumpStart small business accelerator program. She did well in several pitch competitions, including earning $10,000 in Cleveland Chain Reaction in 2021. She also earned grants from the Urban League of Greater Cleveland and The Presidents' Council, which supports black entrepreneurs.
Johnson has dependable sales from her expanded product lines, catering and pop-up shops. The GlenVillage cafe remains her anchor, but she needs more space – and she is about to get it. Vitiman Kandie will open a restaurant soon at the Foundry Lofts in Cleveland's Midtown neighborhood.
"Now I can finally have a full-service restaurant, a place to sell my products and just have one location where people can meet up, network with each other and rent space,'' said Johnson, who expects her sales to move into six figures this year.
Johnson is hiring a restaurant staff. Her sister, Melanie Sizemore, will help manage. But there are lots of busy days ahead.
"There's never, never, never a day off,'' Johnson said, a common experience of small business owners. "But you know what? I understand my ministry. I know what I'm here to do. This is my life. So it's not like it's a job. I'm supposed to do this."
Peeling off the bandage
Kevin Nelson believes he has a better bandage. But a pandemic pivot to manufacturing face shields generated several million dollars for his medical device startup company, NelDerm.
That money helped prepare NelDerm for what Nelson hopes is another product success. But, once again, that product won't be his hydrogel bandages.
"I like to deal with startup clichés – move fast and break things,'' said Nelson, 27, a University of Akron graduate. "I like to identify problems and bring solutions to market but not wanting to sit around and wait."
In March 2020, Nelson was launching his NelDerm bandage. He had raised money from family and friends and had spent more than a year at the Bounce Innovation Hub in Akron. Support services there, including entrepreneurs-in-residence, had helped Nelson through market testing and crafting supply, production and distribution networks.
Then the pandemic hit. National health care focus turned to immediate needs. It was not a good time for launching a new kind of bandage. Nelson dove into research of personal protective equipment and found open-source face shield designs he liked. He ran it by manufacturers who saw potential for fast production.
Working out of his Strongsville home, Nelson and his friends pounded phone lines. They quickly landed an order for 10,000 face shields, and other orders rolled in. A cold call to the University of Michigan's health system resulted in a callback from the dental school, where NelDerm was able to make a next-day delivery. Word spread and NelDerm would go on to sell face shields to 60% of the nation's dental school market, Nelson said.
NelDerm eventually sold two million face shields at up to $3.50 each, Nelson said. He also gave several hundred thousand shields to local hospital systems at no cost.
"We got a lot of compliments on our price, the quality, the fact it was U.S. made and our accessibility," Nelson said.
NelDerm still sells face shields, but the bulk of that business was finished by fall 2021, Nelson said. Revenue from the pivot to face shields paid off NelDerm's debt and allowed key hires.
The pivot "saved the company,'' Nelson said. "I don't think you can overstate how crucial it was."
Attention turned back to the bandages, but only for a while. Another promising product emerged after Nelson met Dr. David Perse, a surgeon, wound-care expert and former CEO and president of St. Vincent Charity Medical Center. He now serves as NelDerm's vice president of clinical strategy.
Perse shared ideas on solutions to prevent pressure injuries, specifically on the heel. Nelson and his team spent much of 2022 researching and developing a product called the Heel P.O.D. (pressure off-loading device). The u-shaped cushion of memory foam fits under the lower leg, elevating the heel to relieve pressure and making it easier for nurses and doctors to examine.
The device – marketed with #floatthatfoot – has gotten positive reviews, Nelson said, and hundreds have been sold. The stage is set to sell thousands more at a price ranging from $80 to $100 each, Nelson said. For now, the hydrogel bandages — the reason his company was formed — are nowhere to be found on the NelDerm website.
"So we are a startup, right?'' Nelson said of his Brunswick-based business. "And are we really going to be launching two products at the same time? We can try. But you're fragmented. And your customers are telling you that (Heel P.O.D) is solving an unmet need."
NelDerm has raised $2 million of investor funds to help carry Heel P.O.D. to market and carry out the company's mission to become the gold standard for pressure-injury treatment and prevention, Nelson said.
Pivoting on informed decisions
Nelson, Ortiz and Johnson made quick yet informed decisions when the pandemic hit. They knew their markets and what they needed. And, as smaller ventures, they were able to market new products and services in a matter of weeks, if not days. Nelson could be describing all three businesses when he talks about NelDerm's pivot.
"We were nimble, right?" Nelson said. "We can make those decisions. We don't have the red tape. It's not to say you can be fast and loose, but it's roll up the sleeves and do what we have to do."